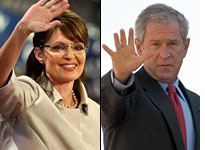 Former Bush Speechwriter Matt Latimer got a lot of attention - and more importantly, for him, a lot of publicity for his tell all book - by saying that George Bush didn't know who Sarah Palin was when she was picked to be John McCain's running mate.
Latimer claims in the book, which is due out in October, that Bush said:
"'What is she, the governor of Guam?'"
Latimer also claimed that Bush told a meeting of aides that the Alaskan Governor was "not even remotely prepared" for the national stage.
Now Jason Recher, who travelled as an aid with both President Bush and then Governor Palin during the campaign, says that just doesn't sound true. Recher told
CNN
that Bush knew very well who governor Palin was at the time because he had just met her. Bush stopped in Fairbanks on his way to the Beijing Olympics last August.
This is what Recher told CNN:
"The president was fully aware of who Sarah Palin was. Even so much that when he greeted the governor and Todd in Fairbanks during a re-fueling stop on the way to the Beijing Olympics, he threw open his arms and said "Madam Vice President!'


He was very aware of her rising-star status and who she was and everything about her, even down to the fact that she recently had given birth to Trig."
Recher goes on to say that Bush and Palin had a great relationship and would talk regularly during the campaign.
Recher to CNN:
"There is no air, no space between them. Sarah Palin is a big fan of George Bush, and she has said publicly she was proud he was Commander-in-Chief when her son Track was in Iraq."
Recher is well know among the White House press corp. He was with the President almost everyday in Bush's second term.
Recher doesn't think that Latimer really knew the President all that well and doubts he spent a lot of time in Presidential meetings.
"I think that most people that used to work at the White House would be hard pressed to pick him out of a lineup. Nobody knows who he is. When people heard he was writing a book the most common reaction has been, 'Who?'"
Latimer sounds lie someone else we know, doesn't he? This is a man who had the honor of being invited into the White House and was trusted by the Bush family.
Later, he embellishes how much time he spent there and what conversations he was privileged to - all to make money.
Matt Latimer and Levi Johnston are cut from the same cloth. They want to use their brush with a powerful family to make a buck.
Levi we know is a teenager and a not very bright one - what is Matt Latimer's excuse?