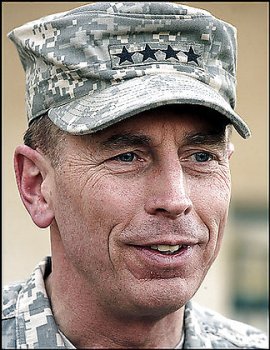 One thing is clear after the poll to find the best running mate for Sarah Palin - there I not clear choice.
Sixteen potential running mates were given as options and the top vote getter is General David Petraeus. Given amount of choices, it was a landslide with %18 percent making the saviour of the Iraq War their choice.
It does make some sense as Petraeus gives the Governor of Alaska a true leader in Foreign Policy and Military affairs. Petraeus graduated from West Point in 1974 and earned a doctorate from Princeton University.
Click here
for a look at "10 Things You Didn't Know About General Petraeus."
The second choice may have been as surprising as the first and illuminates the fact that the Republican Party is looking for new leaders. %14 didn't like any of the given choices and voted for "Someone Else." In the comment section, Former UN Ambassador
John Bolton
, Republican Chairman Michael Steel, Wisconsin Congressman Paul Ryan, Michigan Congressman Pete Hoekstra, Texas Governor Rick Perry and Miss California Carrie Prejean were suggested as that "Someone Else."
Coming in third is former Speaker of the House Newt Gingrich, followed by former Massachusetts Governor Mitt Romney, talk show host Rush Limbaugh, Louisiana Governor Bobby Jindal and former Secretary of State Condoleeza Rice.
Everyone received votes, with the exception of former Secretary of Homeland Security who received one single vote. Probably too moderate for the Sarah Palin crowd.
Getting back to General Petraeus, the question is, would he run? In March there was a rumor that Petraeus was going to give a speech in Iowa in 2010 that started to fuel speculation of a possible run for the Presidency.
A spokesperson at Central Command quickly
dispelled the rumor.
"General Petraeus is not planning to run for President in 2012. He has repeatedly stated that he feels very privileged to have been able to serve our country in uniform and that he would like to continue to do so as long as those above him want him to serve.

When he retires, he has no intention of seeking political office.

In response to questions about presidential aspirations, General Petraeus has often asked questioners to recall General Sherman's response to similar queries in the late 1800s. Sherman said, "If nominated, I will not run. If elected, I will not serve." That remains General Petraeus' response as well."
General Petraeus is so non-political he says he doesn't even vote because he doesn't believe it is proper to show any political affiliation.
Of course, he could always change his mind, but it seems unlikely. He also really enjoys his job as head of Central Command.
Well, that' why its called a "Dream Team." If Patraeus stays put, Sarah Palin supporters will have to go with their second choice - someone else.
All of the results are to the right of this post. I'll leave them up for a couple of weeks. Thanks for taking part.