What is the problem with Redoubt?
It is grumbling and mumbling and spewing ash, but so far no eruption.
The Alaskan Dispatch
has a theory -
"...the volcano is teasing Alaskans. Perhaps it's jealous of all the attention Sarah Palin has been getting, or of that volcano in Japan that recently erupted."
The Alaska Volcano Observatory says don't let Rdoubt fool you. It is going to blow.
"Based on all available monitoring data and [the Alaska Volcano Observatory's] knowledge of the volcano ... an eruption similar to or smaller than that of 1989-90, appears to be the most probable outcome at this time," according to the
Volcano Observatory's website."
This is what the 1989-90 eruption looked like -
The eruption was bad, but not horrible. That cloud of ash dust and ice reached 40 thousand feet and spread out over Southern Alaska.
International air traffic was disrupted in Anchorage. A Boeing 747 flew through the volcanic ash cloud and experienced complete engine failure. The airplane dropped from 27,000 feet to 13,000 before the pilots got the engines restarted and landed safely in Anchorage. Also, there were volcanic mudflows traveling down the Drift River to the Cook Inlet. These mudflows partially flooded the Drift River Oil Terminal facility at the base of the volcano. the facility had to be evacuated and was damaged, but there was no oil spill.
Nearby Anchorage was shrowded in darkness and covered with soot and ash, but life went on with no serious injuries.
Alaskans are prepared -
Or as the Dispatch puts it, "Southcentral Alaskans have spent tens of thousands of dollars stocking up on face masks, air filters, tarps, food and water jugs. Geologists have been watching her day and night, long hours away from their lonely families. It's time for this selfish cone to put up or shut up."
So far there have been a few small earthquake and volcanic tremors, the volcanic crater has widened and there have been some small plumes of ash and smoke, as seen in this video take by a United States Geological Survey team -
The Alaska Volcano Observatory issued a new statement saying the code orange is still in effect and an eruption is the most likely scenario, but they are not sure when the eruption will take place.
AVO said the activity could stretch out for months or it could erupt very quickly.
"We don't think it's that safe," U.S.G.S Scientist Tom Murray said. "It's still in a state where it could actually do something."
Scientists are continuing to watch the activity 24 hours a day.
Air Traffic
The U.S. Air Force is moving its aircraft from Elmendorf Air Force Base in Alaska, to escape an eruption by a volcano (Mount Redoubt). Volcanoes put out lots of gritty ash, which damages or destroys jet engines. A coating of ash, not to mention flying rocks and lava, is also bad for aircraft, and the equipment used to maintain them.
Volcanoes are not the only natural disaster that the air force flies away from. Every year, during the late Summer, early Fall hurricane season in the western Atlantic, the U.S. Air Force makes plans for where they will move aircraft that find their U.S. bases that are in the path of a storm. A favorite refuge is Wright-Patterson Air Force Base, which is large, and in the middle of the country (western Ohio). Last year, as Hurricane Hanna (which had calmed down to tropical storm status) moved up the east coast of North America, military and commercial aircraft began to flee. In the days before the storm was scheduled to come ashore, 14 F-15 fighters flew into Wright-Patterson from Florida, and another 80 from North Carolina. In addition to the combat aircraft, tankers, transports and anything else that can get blown around, and is able to fly, is sent off to a safer place. The USAF has similar evacuation plans for aircraft in the Pacific, where even more powerful storms (typhoons) are a regular occurrence.
The navy and army will also fly off their aircraft and helicopters to safer locations, as do commercial aviation companies. It's expensive to do all this moving around, but a lot cheaper than risking aircraft being blown over and sustaining millions of dollars in damage. There are frequent examples of this, as there are always some aircraft that are being repaired, and not flyable. These are tied down or otherwise secured, but still tend to suffer damage if they a directly in the way of the storm.
Oil Terminal
Today, on the shores of Cook Inlet, a body of water which lies on the other side of the Chugach Mountains from Prince William Sound, there is a tank farm owned by Chevron. This tank farm consists of seven tanks, each one capable of holding 270,000 barrels of oil. That's over 11,000,000 gallons total. This tank farm sits next to the Drift River which feeds into the Inlet. And it also sits at the base of Mt. Redoubt, which happens to be an active volcano that is currently at "orange alert" meaning it will likely erupt sometime soon.
The last time Mt. Redoubt erupted, the searing heat caused the glacier on its north face to melt, sending at its peak of flood 60,000 cubic meters of water per second rushing past the tank farm, a volume comparable to the output of the Mississippi River, only boiling hot. What might happen this time? With things like volcanoes, and tank farms on flood plains, one can never be sure.
But we have been burned before by not being prepared. Now, in Prince William Sound, we only allow double hulled tankers, containment booms are at the ready. So, when we see a potential problem in the making, like lots of oil sitting between the volcano and the deep blue sea, we want to know how much oil is actually in these tanks, what precautions Chevron is taking to make sure we don't have an environmental disaster on our hands, what equipment is available, and what Chevron plans to do if the worst happens. We need to know this in part because Cook Inlet is home to important salmon fisheries, halibut, and endangered beluga whales. Anchorage, Alaska's largest city, sits on its shores, and it reaches the coastal communities of Kodiak, Homer, Seldovia and many others.
Chevron says they are prepare, but will not release any more information because of Homeland Security issues.
Click here
to read more.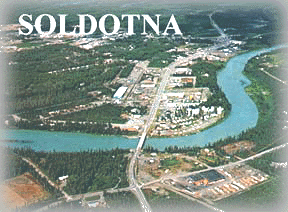 Local Perspective
As a resident of Soldotna, Alaska, located a mere skip across the Cook Inlet from Mount Redoubt, I can say thus far we've seen little more than tremors, steam and unnecessary hassle. For example, local vaccination clinics, or I should say the local vaccination clinic because there is only one which rotates location, shut down due to the possibility that Mount Redoubt may erupt. Vaccinations are needed for any child wishing to go to school, or day care.
Many residents are also flooding the stores buying emergency supplies from convenient store displays. Having lived in Alaska all my life what surprises me far more than a highly active volcano debating erupting again, is that these Alaskans don't have emergency supplies already. Volcano or no Volcano, Alaska is full is full of power outages, storms, snow in's, floods, freezes, and all manner of disasters. Who in their right mind then becomes frightened at a bit of ash fall? Good to know the safety precautions found in the linked article above? Yes. Run for the hills and spread panic? No. Mount Redoubt is located at least 150 miles from any town, city or even village. To reach most cities in range, for example my own, the lava would have to cross an inlet of icy Alaskan water. Probable? No. Even Possible? I think not. That any local business or service has shut down due to the threat of Mount Redoubt erupting more than surprises me, it shocks me.
To update on the status of Mount Redoubt, as of February 14th, 2009 Mount Redoubt has not erupted. It has shot steam several times, and continues to produce above normal seismic level tremors. Snow melt is also being witnessed due to heat release. The threat level remains orange, and the mountain is still being watched.
The Alaska Volcano Observatory as quoted from their website found in source reminds residents, "Comparing the time frame of pre-eruptive activity in 1989-90 (the only other eruption for which seismic data were available) with the current unrest, we would expect such an eruption to begin within Mount Redoubt, Alaska: Will it Ever Erupt?
It is likely that the onset of an explosive eruption would be preceded by a further increase in seismicity. An explosive eruption would be accompanied by a sharp increase in seismicity. Should earthquake activity or other monitoring data suggest that an eruption is expected within hours, or is underway, AVO would move Redoubt from its current Aviation Color Code ORANGE to RED, and Alert Level WATCH to WARNING."
I feel this suggests there will be ample warning before Mount Redoubt erupts, if it does. Currently, this Alaskan is left wondering if it ever will.
Iditarod
In he meantime the Idatrod is scheduled for March 7. Racers preparing for the world's most famous dog sled race from Anchorage to Nome would usually be worrying about the snow, but this year, they should be concerned about ash. Even if the eruption occurs prior to the 1,161-mile race, it could force racers to interrupt training to prevent their dogs from breathing in the volcanic ash.